Murg Ka Salan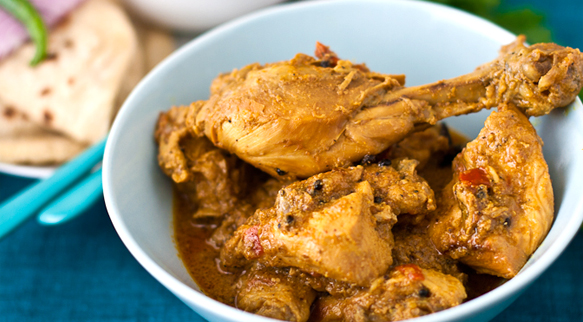 Prep Time: 35-40 minutes
Cook Time: 35-45 minutes
Serves: 4
Freezing: excellent
Try this recipe once. Just a few variations on the spices take you on a culinary journey through India.
Ingredients:

Marinade:

1/3 cup (75 mL) plain yogurt
1 tsp (5 mL) salt
1 tsp (5 mL) ground black pepper
2½ lbs (1.13 kg) whole chicken, cut into 16-20 pieces

Curry:

¼ cup (50 mL) mustard oil
4 black cardamoms, coarsely crushed
4 green cardamoms, coarsely crushed
1 cinnamon stick, broken into 3-4 pieces
2 bay leaves, whole
2-3 dried red chilies, whole
1¼ cups (300 mL) onions, chopped
1 tbsp (15 mL) ginger garlic paste
1½ tsp (7 mL) Thai green chilies, chopped (adjust according to taste)
1½ tbsp (22 mL) coriander powder
1 tsp (5 mL) turmeric
1 tsp (5 mL) garam masala
Salt to taste
1 cup (250 mL) water, divided
1 cup (250 mL) tomatoes, chopped
¼ cup (50 mL) cilantro, chopped
Method:

Mix marinade ingredients together in a large bowl. Add chicken and set aside for 30 minutes.
Heat oil in large pressure cooker or large thick bottom pan on medium high heat until smoky at 350˚F (175˚C).
Add first 5 spices. As they sputter, add onions. Sauté for 8-10 minutes on medium heat until translucent, stirring every 2 minutes.
Add ginger garlic paste. Sauté for 3-5 minutes on medium heat. Add green chilies. Stir.
Add tomatoes. Cook on medium heat for 8-10 minutes until tomatoes melts and makes a loose paste.
Add marinated chicken with marinade. Stir well to coat. Cook on medium high for 8-10 minutes, stirring every 2 minutes scrapping the sides and bottom.
Add ¾ cup (175 mL) water. Mix well. Cover with lid. Cook for 10 minutes. If using a pan add 1¼ cups (300 mL) water. Cover, simmer on medium heat for 15-20 minutes until cooked.
Turn off heat. Let rest for 15 minutes until pressure is released. Remove and garnish with cilantro.
Tip:

Many people prefer removing whole spices before serving. A good alternate is to grind them and add to oil when you sauté onions.
©/® Smucker Foods of Canada Corp. or its affiliates.