Naan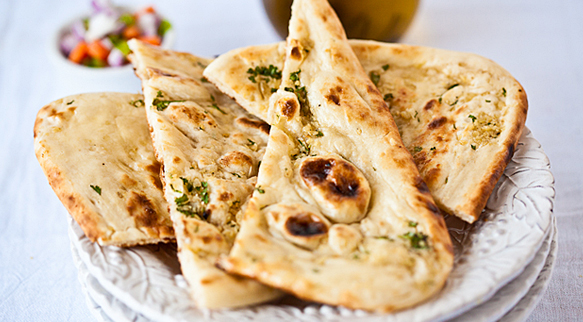 Prep Time: 10 minutes
Cook Time: 20 minutes
Rising Time: 6-8 hours
Makes: 15
Freezing: not recommended
Traditionally, naans are made with all-purpose flour (maida). Substitute it with Golden Temple® No. 1 Fine Durum Atta Flour and you'll wonder why you didn't think of this before.
Ingredients:

2½ cups (625 mL) Golden Temple® No. 1 Fine Durum Atta Flour + extra for dusting
½ tsp (2 mL) baking soda
1 tbsp (15 mL) sugar
1 tsp (5 mL) salt
½ cup (125 mL) plain yogurt
1 cup (250 mL) milk, lukewarm
1½ tsp (7 mL) oil
¼ cup (50 mL) water
2 tbsp (30 mL) butter or ghee (optional)
Method:

Combine dry ingredients in a mixing bowl. In a separate bowl, combine milk and yogurt. Slowly add to dry ingredients. Mix with hands to form sticky dough.
Place dough in a lightly oiled bowl. Cover with a tight lid and set in a dark, warm place for dough to rise. Rising time greatly depends on the temperature of the environment. At around 70-75°F (158-167°C) dough takes approx. 6-8 hours. Wait for it to rise to almost double its original size with air pockets inside.
Dust work station with 3 tbsp (45 mL) flour. Transfer dough to floured surface. Knead it together. Divide into 14-15 parts. Roll into balls.
Dust rolling board and dough balls with flour. Use rolling pin to roll dough flat into oval shapes measuring 4" (about 10 cm) long. Brush one side with water.
Transfer rolled dough to hot pan, wet side down. Cover with lid. Cook for approximately 20-25 seconds or until bubbles start breaking the surface. Remove from pan and place on open flame. When charred brown spots appear, the naan is ready.
Brush butter or ghee (optional) and serve hot with choice of curry.
Caution: Cooking on open flame can be potentially dangerous. Maintain a safe distance from the flames while roasting the naan.
Tip:

Heat oven on warm setting for 30 minutes. Turn off. Place covered bowl of dough inside. On cooler days this warm oven helps dough to rise. Lightly oil hands to prevent dough from sticking.
Sprinkle a small amount of garlic, cilantro, or choice of whole/crushed spices to rolled out dough to add a special touch.
©/® Smucker Foods of Canada Corp. or its affiliates.