Egg Paratha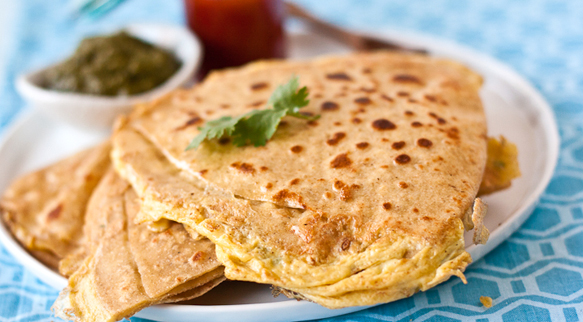 Prep Time: 15 minutes
Cook Time: 20 minutes
Makes: 10
Freezing: not recommended
Average Rating
Be the first to rate this recipe
Be ready to cook extras because everyone will want more once they taste these delicious egg parathas.
Ingredients:

2½ cups (625 mL) Golden Temple® Durum Atta Flour Blend + extra for dusting
1 tsp (5 mL) salt
1 cup + 1 tbsp (265 mL) water
¼ cup (50 mL) Vegetable Oil for layering and pan frying
6 large eggs, beaten
¼ cup (50 mL) cilantro chopped
Method:

Combine flour and salt in a large mixing bowl. Slowly add water. Knead for 8-10 minutes to form soft dough. Cover with damp cloth and set aside for 5 minutes.
Place dough on lightly floured work station. Knead for 1-2 minutes. Divide into 10 parts.
Dust rolling board lightly with additional flour. Use rolling pin to roll balls into circles about 3½" (8-9 cm) wide. Occasionally dust dough to prevent sticking. Brush ¼ tsp (1 mL) of ghee/oil on surface of rolled dough. Lift one side, fold it over the other to make a semicircle. Brush oil on exposed side, fold one corner over the other making a triangle. Dust both sides of the layered dough triangle. Roll into a thin triangle.
Beat eggs, salt and cilantro together. Set aside.
Heat skillet on medium high heat. Place rolled dough onto skillet. Cook for 18-20 seconds or until dough turns darker and small bubbles break the surface. Flip. Cook for 12-15 seconds. Layers should start to separate.
Use a spatula or knife and carefully lift top layer of paratha to form a pocket. Pour 2 tbsp (30 mL) of egg mixture into the pocket and close. Cook for 5-8 seconds. Flip. Egg may ooze out. Brush oil on the surface. Cook for 12-15 seconds or until brown spots appear on the surface. Flip. Repeat on the other side. Brush oil on the surface. Applying gentle pressure on the sides with spatula, cook for 10-12 seconds until brown spots appear on the surface and egg is cooked.
Remove from heat. Serve with spicy tomato ketchup or chutney.
Tip:

Prepare masala egg paratha by mixing spice blends like garam masala or chaat masala, chopped onions, chopped green chilies or even cheese.
©/® Smucker Foods of Canada Corp. or its affiliates.